This is where I will try my hand at developing a proper web page for my friends and family to peruse, and to hone my computer skills. Thanks to Wayne, my brother, for graciously providing space on his server for me to play.
Current time and temp in Anchorage

Lynden Air Cargo has purchased another airplane! That means I will go from being the 2nd from the bottom on the first officer list to being tenth from the bottom (out of approximately 29). My bids might actually start to mean something. The new plane (N406LC) should hit the line in early spring.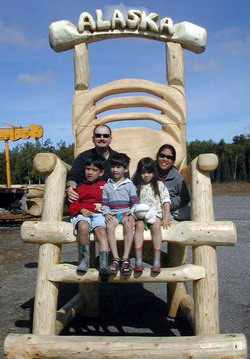 And you think things are big in Texas?
My name is Tracy, though I've generally been known as "Wiley" since I was in college, which was a long, long time ago. I was a pilot in the Air Force and have recently completed a 22+ year career this past September. Now I am a pilot for Lynden Air Cargo, which is an Anchorage-based cargo carrier with world-wide operations.
We are a family of five with Susan, my wife, Richard and Alex, my twin boys, and Alana, the princess, filling out the rest of the line-up. My wife and I are also involved in running an Assisted Living Home, namely the Forget Me Not Assisted Living Home.
We've lived in Alaska for about seven and a half years thus far, and plan on
staying up here after for the foreseeable future. Susan says she doesn't want to stay here until we're old and gray, but she'll stay until the kids are out of school. Considering my youngest is in the first grade, that's quite a commitment.
As a family, we have lived in New Mexico (pre-kids), Hawaii (birthplace of the boys), and here. Of the three Alaska certainly seems to have the best environment for raising a family, and Susan and I are both tired of moving...at least for the time being. Who knows what the future might bring, however.
So enjoy the site, take a look at the pictures, and feel free to drop me a line and let me know what you think. Just click the "Contact Us" button to pass along any thoughts or suggestions you may have. I'm sure I will occasionally update the site, and I'll try to remember to add a blurb in the "What's New" area. Enjoy!